The Committee for Melbourne (The Committee) is a private, not for profit and non political network of leaders drawn from senior levels of major corporations, institutions and organisations across Melbourne's business, scientific, academic community and government sectors.
The Committee is governed by a 14 member Executive board that meets six times a year, thereby providing a neutral space for interactions between non traditional stakeholders. In addition, the Commit-tee's Advisory board meets twice a year, and consists of Foundation members who maintain oversight of the executive board and the committee's operations. The Advisory board also has the role of championing the reputation, ideas, projects and objectives of the Committee, while providing guidance, feedback, ideas and opinions relating to the operations of the Committee within the context of Melbourne's economic and social development.
By seeking to translate 'ideas into outcomes' the Committee moves beyond the traditional think tank model, seeking to facilitate creative ways of challenging conventional CSR methodolo-gies. The Committee believes that a dynamic city is good for both business and the community, fusing the often cited business case and social case for corporate social responsibility.
The Committee maintains five key strategic objectives
Ensuring global relevance as the first 'city' to engage the UN Global Compact. The Committee has developed the Melbourne Model methodology (see www.melbourne.org.au) to tackle economic, social and cultural im-pacts of urbanisation by combining and coordinating resources, ideas, experience and knowledge inherent in the corporate sector, government and civil society(See the figure following)确保自己的目标具有全球相关性。委员会开发了一个参与模型(见下图),以通过对内嵌于企业、政府和公民社会的资源、思想、经验和知识进行组织和协调,来处理市场化带来的经济、社会和文化问题
Fostering leadership and creativity to enhance the attractiveness of Melbourne as a magnet for creativity and knowledge;通过培养领导力和创造力,提升墨尔本作为创新和知识中心的吸引力
Encouraging an innovative business culture that rewards creativity and creates the space for innovative solutions to complex problems;鼓励创新性的企业文化,以对创新行为进行奖励,并为创新性地解决复杂问题提供机会
Facilitating leading edge infrastructure as a base to support further innovation and collaborative activity; 加强前沿的基础设施建设,将其作为进一步创新和合作的基础
Enhancing liveability through corporate connection to social issues within the scope of influence for business that makes Melbourne an insightful city; acknowledging the fusion of business and social goals.通过将企业与其影响范围内的社会议题联系起来,可以提升墨尔本的城市活力,使其成为一个具有远见力的城市;重视企业目标与社会目标的融合。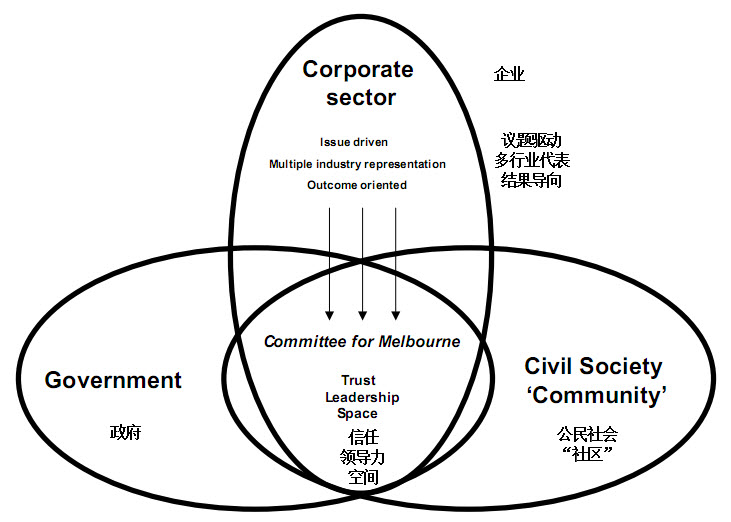 墨尔本委员会集合了智库和孵化器的特征。企业参与到学习过程中,使得CSR变成一个"身体力行"的概念,并获得信任,也就向着复杂社区问题的解决前进一小步;在这个过程中,所有的公民都可以参与进来。具有讽刺意味的是,在一个关注企业底线的环境中,信任是唯一具备这特征的商品,即信任一旦形成就能够在整个使用过程中发挥外部效应,而无论是城市还是社区都缺乏对信任的投资–墨尔本委员会弥补了这一缺陷(这里是提供一个除去企业、公民之外的权威第三方么?)。信任是最终的可持续资源,也是企业公民中最活跃的部分。委员会及其成员所具备的执行力,使得这种独特的网络结构能够通过CCP来成功构建企业社会责任。这些执行力包括
组织:建立跨部门的利益相关方代表制度,帮助企业打破"孤岛思维";
协商:邀请合作伙伴聚集到共同空间内,通过超越单纯的竞争关系来营造开放的环境,从而帮助他们建立信任;
建立关系:建立政府、社区和企业之间的联系网络,创造"中间网络"关系,进而寻求更多的发展计划;
社会分析:综合社会和商业的衡量方法,开展跨学科的评估,以此加强社会福利和商业利益之间的紧密联系。
(English)
Organising groups: formatting stakeholder representation across multiple sectors thereby assisting to break down the silo mentality;
Negotiating: inviting partners to come together in a common space thereby assisting to create trust through openness created by common purpose over and above competition;
Developing personal connections: networking across government, community and corporations to create "neural"connections that may otherwise not have had the opportunity to develop;
Social analysis: trans-disciplinary evaluations that fuse social and business measurements together to reinforce that social wellbeing and business wellbeing can be closely related.
综述:这是一个给政府使用的创新模型。